While working on the Mini-Cup, I started playing around with Herb McLeod's One Sheet Skiff. Since Herb's drawings were done by hand, I redrew them in TurboCad and then made a series of models, refining the drawings each time. Please note that these drawings were done for my own interest and sake, but feel free to use them yourself. Of course, your results may vary. The PDF files are to scale so you can just print them off onto card stock and make your own model.
Herb's plans as well as building instructions, and links to builder's can be found at http://www3.sympatico.ca/herbert.mcleod/skiff.htm
Plywood Sheet Layout
- pdf - Base Boat
- pdf - Seats/Mast Step/Mast Partner
- TurboCad
- AutoCad R12
Some Assembly Details and notes
- pdf
- TurboCad
- AutoCad R12
Sail (A work in progress - borrowed unabashedly from David Beede's Cygnet)
- TurboCad
I have built several models of this boat, most recently with the sail from Cygnet. My good friend, EarthWormJim, who just happens to be 6" high shows how I would look in this boat. Minus the ray guns that is.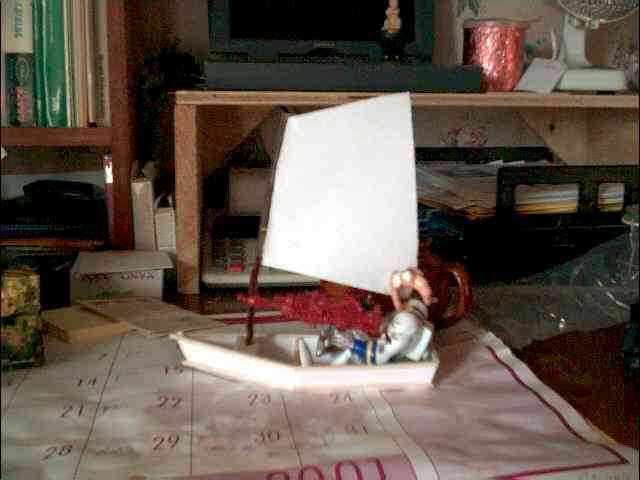 One Sheet Skiff Mark 2
After the completion of my first skiff, I was certain that I could do better. So in the summer of 2002, I built another skiff and more proper sized oars to go with it. I also coated this boat with epoxy, made a solid stem piece that extended to be a cut-water so that I wouldn't have to seal two plywood edges, and cut the stem off flush with the gunwales. Overall, a much nicer job than the first one.
May 2007 - Update
After almost 6 years without protection other than paint and minimal maintenance, the rot on the original OSS has finally reached it's end. When uncovering it this spring, I found more plywood delmamination and lots of rot, including tree fungus growing in the chines and the gunwales rotted more. Much of the rot was probably due to using poplar, which is not very rot resistant, combined with not sealing the plywood beyond using paint. Storing the boat under cover though probably prolonged it's life. I'll remove what's useful from it and then dispose of the rest.